GETTING DOWN WITH ARBORLY LOVE
Philadelphia is known for its passionate folks – just ask us about our feelings on the Eagles (Romo sucks) or how we like our cheesesteaks (Romo sucks). Of course, this love isn't exactly associated with everything. Take for instance…trees.
So when the fine folks from TreePhilly (a greening initiative from Philly's Parks and Rec department that's backed by Mayor Nutter) approached us recently to help them channel some of our city's passion in Mother Nature's direction, we only had one thing on our mind—sweet, sweet Arborly Love.
TreePhilly was gearing up to announce their bi-annual free tree giveaway, and our challenge was to cultivate some citywide chatter about the event. So we figured the best way to get the city talking about trees…was to get the trees talking to the city.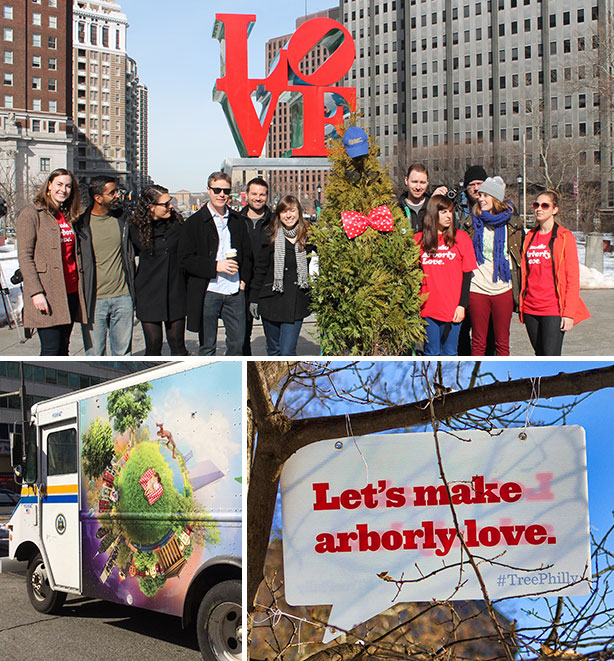 We started the convo by hanging speech bubbles on trees all over the city, basically turning Philly into the City of Arborly Love. The signs included messages of love, straight from the trees, expressing how much the citizens of Philadelphia made their branches tingle. To keep the love flowing online, we also included the hashtag #TreePhilly. Of course, we didn't stop with just speech bubbles. We also did design work for a special promotional "Tree Truck", created a bunch of ADDY Award-winning posters and launched a series of killer radio spots.
Our participation in the TreePhilly initiative culminated with a registration kickoff event hosted by the man himself—Mayor Nutter—in Love Park. Among the many speakers was our very own spokestree, who could best be described as Barry White reincarnated as a tree who only wanted to love you…oh so gently, baby. You can catch his heartfelt (and sexy) speech below.
We had fun doing our part in spreading some Arborly Love around Philly. If you or someone you know currently has roots in Philadelphia, be sure to check out TreePhilly.org